Customer Reviews
10/23/2019
Julie S.
Australia
Sands of time
My family and I are spreading my mother's ashes on her favourite beach next month. We lost her to cancer early this year. I will put some sand in my bracelet. What a great way to remember her! Thankyou
12/10/2019
Terence H.
Canada
Perfect Christmas Gift
My Girl friend is big on "Memories". She brought home from our last Vacation some sand. So this is perfect for her to put some in and then has a piece of paradise with her.
12/03/2019
Robin B.
United States
Incredible!
2019 has been a very difficult year. I lost 3 close family members as well as a dear friend. I purchased one bracelet to "check it out" and make sure it was going to work for what I had in mind. It was PERFECT. I since bought 5 more bracelets. I wear 3 with the ashes of my loved ones inside! It means so much to have them close to me all of the time. Thank you ❤️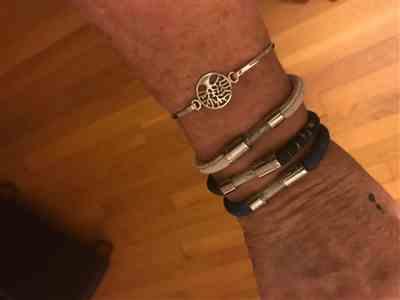 11/27/2019
Nicole M.
United States
Most meaningful gift
I wanted to give my 13 year old something meaningful for Christmas. I came across Legend Bracelets on IG, and have now ordered 4. The rope part is soft, and the idea that she can save sand from her favorite beach and dirt from the softball field is just a bonus. The message on what the bracelet supports and stands behind is the real reason I chose this gift. Their video's really show their passion for helping our planet. The bracelet also comes with information about what it supports, but I also plan to point her to the website for even more information. Thank you Legend Bracelet!!
11/19/2019
Damion D.
United States
Great early Christmas gift.
My wife always likes to take a few shells and some sand from whatever beach we vacation at. So when I saw these bracelets. I though it would be a great gift for her. Needless to say, she liked the bracelet a lot. The hardest part is figuring out what sand she wants to put in it. Would definitely recommend this as a gift. Especially since it promotes saving the environment as well.