Customer Reviews
10/23/2019
Julie S.
Australia
Sands of time
My family and I are spreading my mother's ashes on her favourite beach next month. We lost her to cancer early this year. I will put some sand in my bracelet. What a great way to remember her! Thankyou
11/11/2019
Adam V.
United States
Jamaican Wedding Memories
We got married on the white sand beaches of Jamaica! We wanted to do something different than the traditional sand ceremony in a vase or picture frame and came across the Legend a Bracelet! We filled our capsule with a little bit of sand from underneath the alter where we tied the knot! We love our bracelets!!
11/10/2019
Leigh C.
United States
Family of Friends
I met 2 wonderful women through my boyfriend because of our love of photography and the Blue Angels. Sadly, David passed away unexpectedly and shortly after bringing Angie, Dianna and myself together. These two ladies have become my sisters, in life and love. Our families gather several times a year, usually in Pensacola Beach, Florida. Because of this bond, we filled out bracelets with sand from the beach.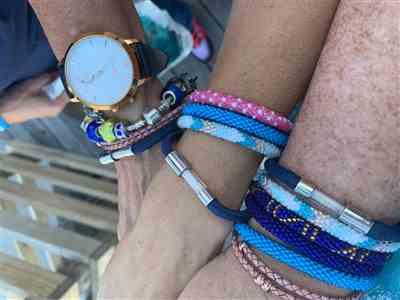 11/06/2019
K H.
United States
Wonderful Wedding Gift
I just gave two bracelets as part of a wedding gift. The bride and groom loved them! Not only was it a great way to help the world but they were able to bring a piece of their honeymoon back home with them! They said it was was their favorite gift ! What a great way to celebrate their marriage and help the world too❤️
11/03/2019
Kimberly S.
United States