Customer Reviews
Write a Review
Ask a Question
10/23/2019
Julie S.
Australia
Sands of time
My family and I are spreading my mother's ashes on her favourite beach next month. We lost her to cancer early this year. I will put some sand in my bracelet. What a great way to remember her! Thankyou
11/02/2020
Trevor F.
United States
11/02/2020
Darby H.
United States
A Legend Moment
I purchased 5 bracelets for adult women in my family. We just took a tip to a special place for our family at the coast, in memory of family members that have passed. We laughed and even shed a few tears as we reminisced. We filled our bracelets with sand and now they represent our parents & brother as well as a new memory of bonding. We also are thrilled that they help environmental causes. I think they could make wonderful holiday gifts!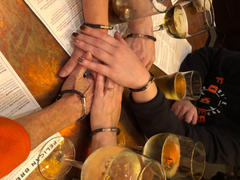 10/28/2020
Jan T.
United States
Coral Legend Bracelet
In a word...EXQUISITE!!! I have ordered a total of 6 bracelets -- my Christmas present "that has a purpose!" for family and friends. The quality of workmanship, the overall appearance, the "purpose" behind Follow Your Legend movement all make for a PERFECT combination...to give as a gift and to share memories. Actually, I will be ordering a couple more...and at least 1 for me!!! Truly a unique and awesome idea!!!
10/24/2020
Tracie L. Moon
United States
Has become part of a tradition
My husband and I love these bracelets. I first got the elephant bracelet and the coral bracelet for each of us at Christmas. I filled it with sand from cape cod where we hope to retire some day and dirt from our first home together. This way we have our beginning/present and our future always with us. My husband then surprised me with the Arctic and seat turtle bracelet. We travel a lot and now it has become tradition to purchase these bracelets to fill with memories of our favorite places. They have become the story of us that we can wear anywhere we go.